Apartment-townhouse for sale in Sventoji (Palanga). Block no. 2, townhouse no. 7
Updated 22 September, 2015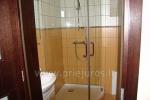 Newly furnished apartment for sale in a townhouse "Pauksciu takas" in Sventoji.
Distance to the sea – 0, 9 km.
Distance to the central Kopu street – 0, 49 km.
Apartment area - 85 m2.
The first floor of cottage contans:
a spacious living room with kitchen and terrace;:
WC, shower room;
electric stove with oven;
microwave, refrigerator, dishwasher, washing machine;
Cable TV.
The second floor of cottage contains:
Two bedrooms with lounge and balcony;
WC, bidet, bath.
Two parking places in the parking lot.
Apartment price - 92 000 EUR (1082 EUR per 1 m2).
Address: Pylimo str. 66, Block no. 2, Cottage no. 7.
Contacts: + 370 687 92595.
Virtual tour
Map of Sventoji
Another apartment for sale:
Apartment for sale in Sventoji (Palanga). Block no. 2, Cottage no. 5
Pylimo g. 66, Sventoji
+370 687 92595
Contacts and information
Address

Pylimo g. 66, Sventoji (Palanga), Lithuania

Phone no.

+370 687 92595

E-mail info@bogvila.lt
View larger map // Navigate to Pylimo g. 66, Sventoji (Palanga), Lithuania