Two-room apartment for rent in Pervalka
Updated 13 January, 2021
BalticSeaside.LT member since 2013 year
BalticSeaside.LT hereby confirms that this member of the catalogue is a verified service provider.
If you have any doubts, please contact BalticSeaside.LT before making advance payment for your reservation and we carry out an additional credibility verification of the service provider.
+370 657 92222 (LT, EN, RU, PL)
Enquiry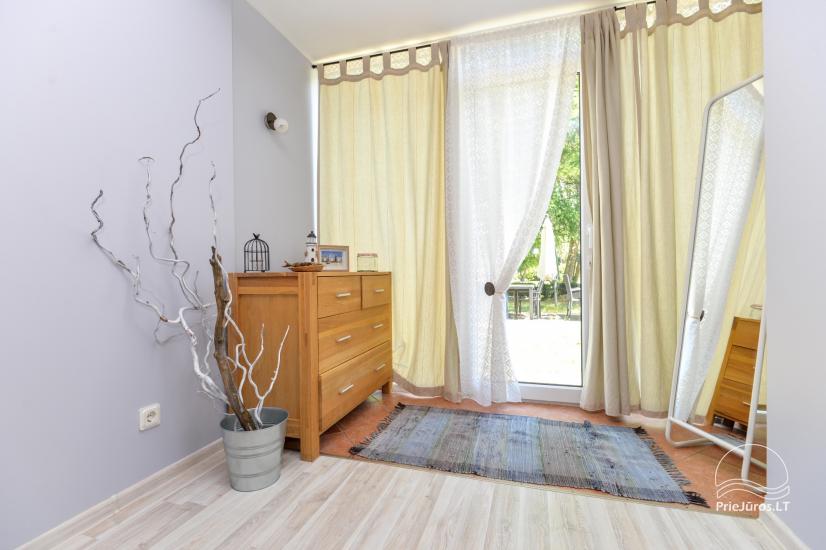 Two-bedroom apartment for six persons for rent in Pervalka.

Apartment is newly renovated in 2012 years. The total area ~50m.

In the apartment are two rooms: a kitchen is in the same area with a large room and separate bedroom. All rooms have exit to yard where you can enjoy a cup of coffee. The apartment has internet.

Apartment facilities:
All you need for cooking,
Ironing board,
Iron,
Hairdryer.
In the yard is a barbecue and table.

You can come with a pet.
Availability calendar
– available
– booked
– closed
Calendar updated – 2020-07-31 15:51
Contacts and information
Address Pervalkos g. 29a, Pervalka, Lithuania Map
We speak

Lithuanian, English, Russian, Polish

Phone no.

+370 657 92222 (LT, EN, RU, PL)

Viber phone number

+370 657 92222

Whatsapp phone number

+370 657 92222

Open

January, February, March, April, May, June, July, August, September, October, November, December

Facilities

In the apartment

Separate entrance from the outside

Shower and WC

Terrace / Balcony

Kitchen private

Stove

Refrigerator without freezer compartment

Kettle

Dishes

Cutlery

Wireless internet (Wi-Fi)

TV

Cable / SAT TV

Double bed

Bedding

Towels

Hair dryer

Iron

Outdoor

Car parking lot

Pergola

Garden furniture

Barbecue / Grill

Car parking free
Possibility for disabled travellers +

Approximate distances

To the sea

~

2 km

Number of rooms / capacity

Number of rooms

2

Number of rooms in the apartment

one-room, two-room

Max. number of persons in the apartment

6

Available number of guests

6

Price per apartment per night

Low season price

from 40 to 65 € per night

High season price

from 55 to 110 € per night

Price per apartment per night

negotiable price

Bank cards

unavailable

Advance payment must be paid right after the agreement

Policies

Check-out

to 11:30

No smoking inside

Accommodation with pets

allowed
View larger map // Navigate to Pervalkos g. 29a, Pervalka, Lithuania