Luxury Jacuzzi apartament
Updated 14 May, 2018
BalticSeaside.LT member since 2014 year
BalticSeaside.LT hereby confirms that this member of the catalogue is a verified service provider.
If you have any doubts, please contact BalticSeaside.LT before making advance payment for your reservation and we carry out an additional credibility verification of the service provider.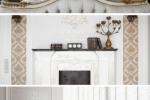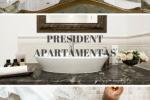 Four LUX apartments with Jacuzzi:
President apartment - in the center of Klaipeda
Supreme apartment - in the center of Klaipeda.
Elegant apartment - in the center of Klaipeda.
Deluxe suite - in the suburb.
WE OFFER:
Pleasant consent.
Easy access by car, where there will always be a place to park it right at the apartment.
Fastidiously clean and tidy.
Scented bed linen, towels, bathrobes.
Double Jacuzzi.
Easily adjustable lighting, according to your wishes.
Maximum everything for your convenience.
Privacy guaranteed.
As in a hotel, and even better.
Amenities:
Hair dryer.
Slippers.
Bathrobes.
All bathroom appliances.
Heated floor.
Adjustable lighting.
Wireless Internet.
Digital TV.
100 or 130 cm TV.
The main crockery and cutlery.
Coffee and tea.
The apartments are meant only for two [for a couple].
Prices:
170€ President apartament in the center
120 € - Supreme apartment in the center.
90 € - Elegant apartment in the center.
60 € and from 1st July 70 € - Deluxe apartment in the suburb.
Discounts for a longer period stays.
If needed extra services: flowers, candles, etc.
Discounts:
Deposit required for booking an apartment.
Check-in time:-17:00-21: 30.
Check-out - till 12:00.
We recommend booking in advance to ensure vacancy of your desired apartment.
Contacts and information
Direct by owners – lower price!

Address

Taikos pr. 35a, Klaipeda, Lithuania

We speak

Lithuanian, English, Russian

Phone no.

+370 609 33504

Open

all Year Round

Approximate distances

To the sea

~

5 km

Number of rooms / capacity

Number of rooms in the apartment

1 room

Max. number of persons in the apartment

2

Available number of guests

2

Price per apartment per night

Low season price

80 € per night

High season price

80 € per night

New Year

80 € per night

Policies

Check-in

from 17:00

Check-out

to 12:00
View larger map // Navigate to Taikos pr. 35a, Klaipeda, Lithuania