Hotel and SPA "Palangos zuvedra"
Updated 01 March, 2021
BalticSeaside.LT member since 2006 year
BalticSeaside.LT hereby confirms that this member of the catalogue is a verified service provider.
If you have any doubts, please contact BalticSeaside.LT before making advance payment for your reservation and we carry out an additional credibility verification of the service provider.
+370 655 40083; +370 460 53253
Enquiry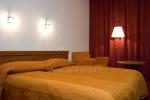 Hotel "Palangos zuvedra" is located probably in the most beautiful place of Palanga, on the seashore, next to the wonderful Botanical park with unique Amber museum. From the hotel to the city center there are only 7 minutes walking distance.
In our hotel You will have a rest in a cosy double or modern suites. You will feel great having attended wellness center, water procedures, taking Turkish bath or sauna complex, swimming in the indoor pool or in the Baltic Sea , riding a bicycle. For Your favour all-year-round open restaurant, 2 conference halls with all necessary equipment. You can leave your car at the spacious parking place.
Attentive stuff, cosy atmosphere, wonderful scenery of pinewood and dunes, sighing sea – Your perfect holiday guarantee!
Contacts and information
Address Meilės al. 11, Palanga, Lithuania Map
We speak

Lithuanian, English, Russian

Phone no.

+370 655 40083; +370 460 53253

Open

all Year Round

Facilities

Per room

Separate entrance from the outside

Shower and WC

Terrace / Balcony

Stove

Refrigerator without freezer compartment

Kettle

Dishes

Cutlery

Wireless internet (Wi-Fi)

TV

Cable / SAT TV

Bedding

Towels

Outdoor
For children
Catering

Some of the rooms have kitchen

Resaurant/ Café

Entertainment

Bicycle rental

Bathhouse / Sauna

Fitness Equipment

Excursions

Massages

SPA service

Extra services

Car rental

Transfer to/from nearest airport

Banquet hall

Banquet arrangement

Conference-hall

Tourist groups catering

Tourist groups accommodation

Event Planning

Car parking free
Possibility for disabled travellers +

Approximate distances

To the sea

~

50 m
City center

~

200 m

Number of rooms / capacity

Number of rooms

88

Rooms

singles, doubles, triples, quadruples

Available number of guests

176

Price per room per night

Low season
August 30 - June 23

from 40 to 100 € per night

High season
June 24 - August 29

from 80 to 160 € per night

New Year
December 31 - January

from 80 to 160 € per night

The price does not include Local Municipality tax ("pillow tax") - 1 EUR per person per night (no tax for children under 18 years old)

Bank Account Number (IBAN)

LT52 7300 0100 0234 8848

Bank

Swedbank AB SWIFT: HABALT22

Bank address

Konstitucijos pr. 20A, Vilnius

Booking is confirmed after deposit – 100% of the total price
Advance payment can be paid by bank transfer
cash
Bank card
by money transfer via TransferGo
by money transfer via post

Advance payment must be paid right after the agreement
Remaining payment must be paid

before arrival by bank transfer or by bank card

In case of non-arrival or shortening the period of stay, the payment is non-refundable
We issue invoices to companies

Yes

Policies

Check-in

from 14:00

Check-out

to 12:00

Quiet time

from 22:00 to 08:00

No smoking inside

Accommodation with pets

not allowed

Minimum stay

1 nights
View larger map // Navigate to Meilės al. 11, Palanga, Lithuania
Entertainment and services
"Palangos žuvėdra" guests ratings
This place was rated by 9 guests:
Overall rating

4.2 / 5

Value for money

4.0 / 5

Service culture

4.4 / 5

Cleanliness, tidiness

4.2 / 5

Comfort of the rooms

4.0 / 5

Environment, surroundings

4.7 / 5

Location

5.0 / 5
Guests recommend this place for:
For romantic vacation

4 holidaymakers

For families with younger children (under 7 years)

2 holidaymakers

For single travellers

2 holidaymakers

Families with older children (7 years and older)

1 holidaymakers
Guests recommend these activities in Palanga:
Quiet rest

9 holidaymakers

Spending time on the beach

6 holidaymakers

Riding a bicycle

5 holidaymakers

Visiting cafes, restaurants, bars

4 holidaymakers

Visiting events / festivals / concerts / shows

3 holidaymakers

Visiting points of interest (museums, natural monuments, historical places of the town and etc.)

3 holidaymakers

Visiting SPA / sanatorium

2 holidaymakers

Sport activities

1 holidaymakers

Visiting nightclubs

1 holidaymakers

Participating in excursions

1 holidaymakers
Vacationers reviews of Palanga
Alex (Dublin)
14 April, 2016

Wonderful botanical park and amber museum

Skaiste (Nothants)
22 September, 2016

location, tidy rooms, perfect place to stay

Saulis (Copenhagen)
08 February, 2016

Great place to spend time with chilren