Homestead "VYŠNIŲ DVARAS" – for events and vacation!
Updated 06 April, 2020
BalticSeaside.LT member since 2019 year
BalticSeaside.LT hereby confirms that this member of the catalogue is a verified service provider.
If you have any doubts, please contact BalticSeaside.LT before making advance payment for your reservation and we carry out an additional credibility verification of the service provider.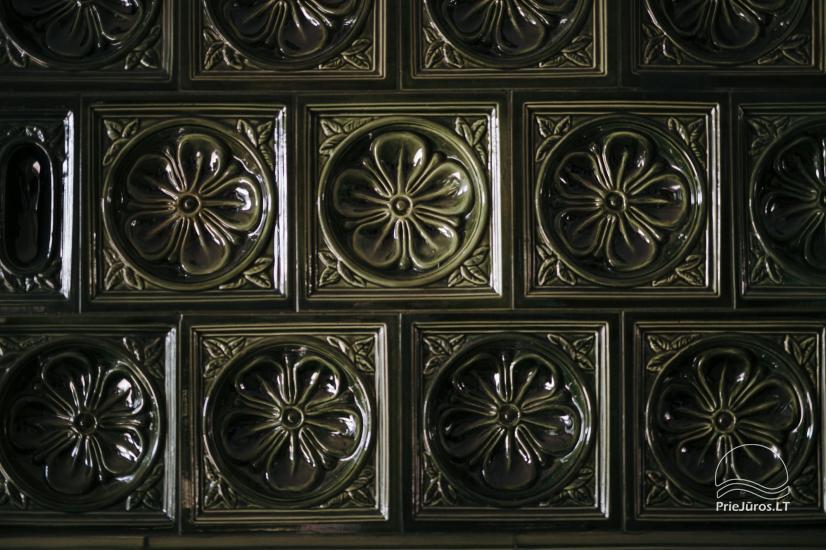 Founded in the shelter of centuries-old oaks and Cherry Mountain, "Vyšnių dvaras" (English - The Cherry Manor) opened its doors for visitors in the spring of 2015. The exterior of the manor house and the interior of the building are based on inspiration from the wooden period of Samogitian manors. Luxurious and quality materials are used throughout the interior.

The large mansion hall is 180 sq.m. and can seat up to 100 people during banquets; up to 200 people through the buffet.

The White Hall next to the Grand Hall is 52 sq.m. area. Natural wood furniture, a gentle range of colors and the main focus of the fireplace create a solid and cozy atmosphere.

We also offer double, quadruple or six-bed rooms for a relaxing stay for up to 80 people.

For bathhouse lovers we offer the Cherry Manor Bathhouse, which is located in a separate log house, about 50 meters away from the manor building. The sauna is equipped with kitchenette, shower, toilet (both on the first and second floor), dressing room. The hall accommodates up to 20 people. On the second floor, we can accommodate up to 12 people.

If you need more lodging, we can offer double rooms at other manor premises. There is a TV, music equipment.

The sauna furnace was built according to the traditions of Ural master I.Kuzznecov. It is different from the usual, as it leaves no waste of unburned fuel and requires just one sitting per day. The steam room can accommodate up to 15 people. The Kuzznecov furnace can boil up to 12 hours after peeling. There is a 9-seat hot tub on the outdoor terrace of the sauna building. Here you can enjoy the pond, the beauty of the forest and the mound next to it.

​Upon request, we will take care of the meals.
Contacts and information
Address Pušyno g.14, Gintarų k., Kartenos sen., Kretingos rajonas, Lithuania Map
Phone no.

+370 699 56463

Website https://vysniudvaras.lt/en/
Facebook www.facebook.com/vysniudvaras/
Instagram www.instagram.com/vysniudvaras
Open

all Year Round

Facilities

Per room

Shower and WC

Kitchen private

Mini kitchenette

Stove

Refrigerator without freezer compartment

Kettle

Coffee machine

Dishes

Cutlery

Wireless internet (Wi-Fi)

TV

air conditioning

Double bed

Twin beds

Bedding (free)

Towels (free)

Hair dryer

Free toiletries

Iron (upon request)

Common amenities

Wireless Internet (Wi-Fi)

Outdoor

Car parking lot

Garden furniture

Barbecue / Grill

Skewers

Firewood (extra charge)

Water pond

Catering

Breakfast included

Catering by prior arrangement

Entertainment

Bathhouse / Sauna

Kayak / canoe rental

Hot tub

Sauna procedures

Extra services

Baby's cot (free)

Baby's high chair (free)

Room cleaning (free)

Banquet hall

Banquet arrangement

Conference-hall

Event Planning

Car parking free
Possibility for disabled travellers +

Approximate distances

To the sea

~

25 km
Lithuanian Sea Museum

~

54 km
Palanga Airport

~

35 km

Number of rooms / capacity

Number of rooms

15

Rooms

doubles, quadruples, for 12 persons

Available number of guests

80

Price per room per night

High season price

from 40 to 65 € per night

Policies

No smoking inside

Accommodation with pets

not allowed

Minimum stay

1 nights
View larger map // Navigate to Pušyno g.14, Gintarų k., Kartenos sen., Kretingos rajonas, Lithuania
Entertainment and services
Bathhouse "VYŠNIŲ DVARAS" – for events and vacation!
Pušyno g.14, Gintarų k., Kartenos sen., Kretingos rajonas
+370 699 56463