Rooms for rent in Palanga close to the beach "Pas Irute"
Partneris
Member since 2008 year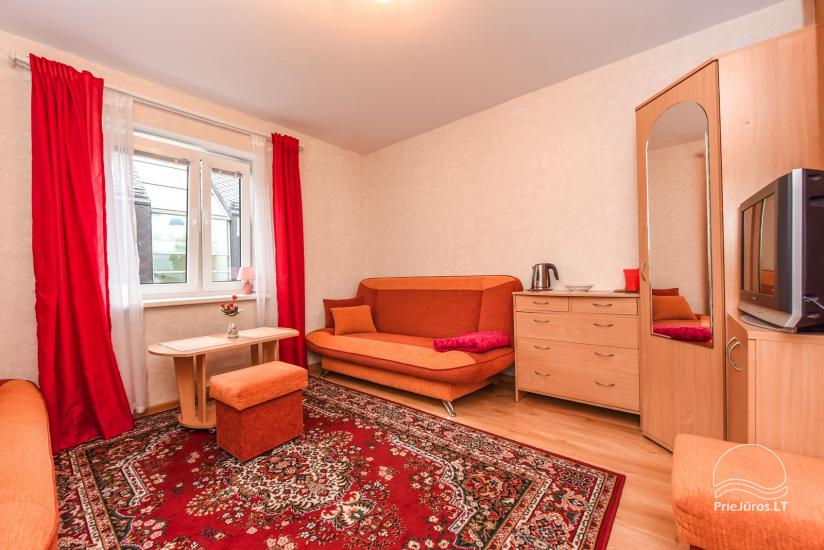 Updated 28 July, 2021
Two neat rooms in private house in Palanga, in S. Neries street 36
Distances:
only 5 min. to the sea,
50 m to J. Basanavičiaus street,
300 m to the center of Palanga.
One room with all amenities
One room with all amenities. There is a shower, WC, Wi Fi, TV, cable TV, mini kitchen, dishes, refrigerator, microwave, new furniture. Parking is safe, free of charge. There can rest 2, 3, 4 people.
Arrival time 14.00
Departure time 12.00
Minimum rental period 2-3 days
Price: 50-55 EUR per day
Availability calendar
available
booked
closed
Calendar updated – 2021-07-26 09:09
The second room - attic type
The second room - attic type. There is a large skylight and an extra window, TV, refrigerator, kettle, table, comfortable double bed, Wi Fi. There can rest 1 or 2 people. The shower is neat, closed, in the yard. WC inside the house. Parking if possible.
Arrival time 14.00
Departure time 12.00
Minimum rental period 2-3 days
Price: 30-35 EUR per day
Availability calendar
available
booked
closed
Calendar updated – 2021-07-26 09:10
Inquiry to the service provider
Contacts and information
Address

S. Nėries g. 36, Palanga, Lithuania Map

We speak

Lithuanian, Russian, Polish

Phone no.

+370 600 66934 (LT, DE, IT)

Website

Open

June, July, August, September
Approximate distances
Number of rooms / capacity
Number of rooms

2

Rooms

doubles, triples, quadruples
Price per room per night
High season
High season
from 25 to 50 € per night
Price per room per night

negotiable price
Policies
Check-in

from 14:00

Check-out

to 12:00

Quiet time

from 22:00 to 08:00

No smoking inside

For parties

not for rent

Minimum stay

high season – 3 nights
View larger map // Navigate to S. Nėries g. 36, Palanga, Lithuania