Holiday in Palanga - apartments and rooms for rent in Palanga
Updated 25 November, 2019
BalticSeaside.LT member since 2010 year
BalticSeaside.LT hereby confirms that this member of the catalogue is a verified service provider.
If you have any doubts, please contact BalticSeaside.LT before making advance payment for your reservation and we carry out an additional credibility verification of the service provider.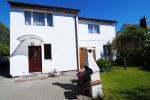 Rooms and apartments for rent in private area with enclosed garden in Palanga.
Each room or suite has a mini kitchen, shower, toilet, television, microwave oven, dishes, refrigerator.
For your convenience: enclosed private yard, parking space and recreational areas with grill and swings for kids in the yard.
About 20 minutes walking to the Sea.
You will find shopping centers, open market, bus station nearby.
For pre-reservation, advance payment is required.