"Danijus" flats, cottages in center of Palanga, just 5 minutes to the sea
Updated 22 March, 2019
BalticSeaside.LT member since 2010 year
BalticSeaside.LT hereby confirms that this member of the catalogue is a verified service provider.
If you have any doubts, please contact BalticSeaside.LT before making advance payment for your reservation and we carry out an additional credibility verification of the service provider.
+370 614 22501
Enquiry
4.7 / 5
rated by 19 guests
Detailed ratings
From 2015-06-19 this place was rated by 19 guests:
Overall rating 4.8 / 5
Value for money 4.7 / 5
Service culture 4.7 / 5
Cleanliness, tidiness 4.8 / 5
Comfort of the rooms 4.7 / 5
Environment, surroundings 4.7 / 5
Location 4.8 / 5
Guests recommend this place for:
Families with older children (10 years and older) 8 holidaymakers
For romantic vacation 7 holidaymakers
For single travellers 2 holidaymakers
For families with younger children (under 10 years) 1 holidaymakers
For youth 1 holidaymakers
Guests recommend these activities in Palanga:
Spending time on the beach 16 holidaymakers
Quiet rest 12 holidaymakers
Visiting cafes, restaurants, bars 12 holidaymakers
Visiting points of interest (museums, natural monuments, historical places of the town and etc.) 9 holidaymakers
Riding a bicycle 9 holidaymakers
Sport activities 8 holidaymakers
Visiting events / festivals / concerts / shows 7 holidaymakers
Visiting SPA / sanatorium 6 holidaymakers
Shopping 6 holidaymakers
Participating in excursions 6 holidaymakers
Visiting nightclubs 5 holidaymakers
Other (enter) 1 holidaymakers
Available this month!
Updated 08:00, 22 March, 2019
We offer cosy, comfortable, newly furnished cottages/flats/suites/rooms in center of Palanga, in Valanciaus street. Next to the cottage complex there is hotel "Amberton", where you can have breakfast. All rooms have separate entrances. In the yard there is summerhouse and barbeque.
Just 50 m. to the J. Basanaviciaus street, 2 min. to shopping centers "Maxima" and "Rimi", and 5 min. to the sea.
Currently, we offer to rent:
Studio apartment-townhouse No. 3 (separate entrance from the yard, mini kitchenette, air conditioner, shower, WC)

Studio apartment-townhouse No. 4 (separate entrance from the yard, mini kitchenette, air conditioner, shower, WC)

Two room apartment No.1 (frist floor, mini kitchenette, dining table, shower, WC)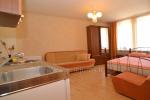 One room apartment No.2 (frist floor, mini kitchenette, dining table, shower, WC)

In each apartment / cottage you will find:
Separate entrance form the outside;
Comfortable furniture;
TV (satellite);
Mini kitchen (fridge, hob / electric cooker, microwave oven, electric kettle, pots, cutlery and etc.);
Bathroom (shower, washbasin, WC, hair dryer);
Economical class double room
Additional services, free / paid (as agreed with owners):
Extra bed for child / adult;
Linen, towels;
Iron and ironing board;
Hair dryer in the bathroom
Barbecue;
Picking up from the airport or bus / train station;
Air conditioner
Additional Information for guests:
Hosts speaks lithuanian, russian and english languages;
Arrival time from 1 P.M.;
Departure time until 12 noon;
Car parking next to the house, free of charge;
The garden with outside furniture, where you can comfortably relax, have lunch or just a cup of coffee.
NON-SMOKING inside, smoking area in the backyard;
P.S. Off season only long-term rental, the price is negotiable.
Discounts:
Reservation and check-in on the same day;
For staying more than a week.
Contacts and information
Direct by owners – lower price!

Address Valančiaus g. 7, Palanga, LithuaniaMap
We speak

Lithuanian, English, Russian

Phone no.

+370 614 22501

Open

May, June, July, August, September, October

Facilities

In the apartment

Separate entrance from the outside

Shower and WC

Kitchen private

Stove

Oven

Refrigerator without freezer compartment

Microwave oven

Kettle

Dishes

Cutlery

Wireless internet (Wi-Fi)

TV

Cable / SAT TV

air conditioning

Bedding

Towels

Outdoor

Car parking lot

Pergola

Barbecue / Grill

Catering

Some of the rooms have kitchen

Extra services

Long term rental

Transfer to/from nearest airport

Car parking free

Approximate distances

To the sea

~

400 m
City center

~

50 m
Nearest Cafe / restaurant

~

100 m
Nearest shop

~

200 m
Palanga Airport

~

7 km
Riga Airport

~

280 km

Number of rooms / capacity

Number of rooms in the apartment

one-room, two-room

Max. number of persons in the apartment

7

Price per apartment per night

Low season price
September 2 - June 30

from 8 to 50 € per night

High season price
July 1 - September 1

from 10 to 120 € per night

Bank cards

unavailable

Booking is confirmed after deposit – 10% of the total price

Policies

Check-in

from 13:00

Check-out

to 12:00

No smoking inside

Accommodation with pets

not allowed
View larger map // Navigate to Valančiaus g. 7, Palanga, Lithuania