Cosy apartment with fireplace for rent in the center of Juodkrante, in Curonian Spit
Updated 09 February, 2021
BalticSeaside.LT member since 2017 year
BalticSeaside.LT hereby confirms that this member of the catalogue is a verified service provider.
If you have any doubts, please contact BalticSeaside.LT before making advance payment for your reservation and we carry out an additional credibility verification of the service provider.
+370 652 27676 (LT, EN, RU); +370 699 95525 (LT, RU)
Enquiry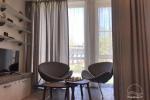 Apartment for rent in the center of Juodkrante, in Curonian Spit.
Beautiful view through the windows to the old twon of Juodkrante and Curonian lagoon.
It is comfortable for 4 persons and there are extra three armchairs foldable to beds.
Apartment is cozy and vieth lots of light.
There is a fire place.
Free Wi-Fi available.
Free parking.
Bed linen and towels are provided.
Availability calendar
– available
– booked
– closed
Calendar updated – 2021-02-09 18:31
Contacts and information
Address Kalno g. 1A, Juodkrante, Lithuania Map
We speak

Lithuanian, English, Russian

Phone no.

+370 652 27676 (LT, EN, RU); +370 699 95525 (LT, RU)

Open

all Year Round

Facilities

In the apartment

Separate entrance from the outside

Shower and WC

Bath and WC

Terrace / Balcony

Kitchen private

Mini kitchenette

Stove

Refrigerator with freezer compartment

Microwave oven

Kettle

Coffee machine

Dishes

Cutlery

Wireless internet (Wi-Fi)

TV

Fireplace

Mosquito nets

Double bed

Twin beds

Bedding

Towels

Hair dryer

Clothes dryer

Ironing board

Iron

Curonian lagoon view

Common amenities

Wireless Internet (Wi-Fi)

Outdoor
Extra services
Car parking free

Approximate distances

To the sea

~

1.2 km
Curonian lagoon

~

100 m
City center

~

50 m
Nearest Cafe / restaurant

~

50 m
Nearest shop

~

50 m

Number of rooms / capacity

Number of rooms in the apartment

3 rooms

Max. number of persons in the apartment

4

Available number of guests

4

Price per apartment per night

Low season price

from 90 to 110 € per night

High season price

from 100 to 120 € per night

Advance payment must be paid right after the agreement

Policies

Check-in

from 15:00

Check-out

to 11:00

No smoking inside

Accommodation with pets

not allowed

Minimum stay

3 nights
View larger map // Navigate to Kalno g. 1A, Juodkrante, Lithuania
Apartamentai Juodkrantėje, Kalno g. 1A guests ratings
This place was rated by 8 guests:
Overall rating

5.0 / 5

Value for money

4.9 / 5

Service culture

5.0 / 5

Cleanliness, tidiness

5.0 / 5

Comfort of the rooms

4.9 / 5

Environment, surroundings

5.0 / 5

Location

5.0 / 5
Guests recommend this place for:
For romantic vacation

5 holidaymakers

Families with older children (7 years and older)

2 holidaymakers

For families with younger children (under 7 years)

1 holidaymakers
Guests recommend these activities in Juodkrante:
Quiet rest

8 holidaymakers

Spending time on the beach

7 holidaymakers

Riding a bicycle

6 holidaymakers

Visiting points of interest (museums, natural monuments, historical places of the town and etc.)

5 holidaymakers

Visiting cafes, restaurants, bars

3 holidaymakers

Sport activities

3 holidaymakers

Visiting events / festivals / concerts / shows

1 holidaymakers
Vacationers reviews of Juodkrante
Almut (Berlin )
22 August, 2017

Promenade with the sculptures

Almut (Berlin )
22 August, 2017

Promenade with the sculptures